If you've recently had a tree felled and intend to use the plot of land it once occupied to build a garden shed or swimming pool, you'll need to remove the stump and root system.
However, this can be hard work, especially if the tree is mature and therefore deeply rooted in the soil.
Calling in an arboriculturist would be a possibility to consider. Tree trimming is one of their many areas of expertise, as is tree pruning, trimming and felling.
Hiring an expert in your field is always a good solution when you want to achieve good results.
Why grub up a felled tree?

There are several reasons for stump removal after a tree has been felled.
As mentioned, if you wish to use the part of the land on which your tree used to stand, you absolutely must remove the stump to enable you to use your entire plot.
Whether you're building a garden, a garden shed or a pergola, if the stump is still in the place where the tree was cut down, it will probably prevent you from taking full advantage of the ideal spot for your project.
If you've felled the tree because it was diseased or infested, it's possible that the stump can still transmit the disease to surrounding trees. It is therefore imperative to remove the stump of a diseased tree to prevent the spread of the disease, or a new infestation in the event of the presence of undesirable and devastating insects.
The remaining stump could also attract insects to settle there. Nasty carpenter ants, for example, could come and have a real feast. Once the party's over in the stump, they might head for your house, and trust us, you don't want that to happen!
As the stump that hasn't been pulled out continues to grow and extend its root system, it could cause problems for your foundation. Foundation repairs can cost a small fortune, and we're sure you'd like to avoid them. It really would be best to save yourself the trouble.
The tree may also start growing again, as the stump continues to feed through the roots, and you may soon find yourself with a new shoot that will soon take the place of the old one. If the stump and roots are not removed properly, there is a real possibility that the tree will grow back.
How is grubbing carried out?
The best way to remove a tree stump is to call in an arborist, who will bring his machinery to remove the stump safely and completely.
Before proceeding with grubbing, it's important to find out if there are any buried cables or pipes near the stump to be removed.
Info excavation
is a free service for locating underground infrastructures. Let them know you're broken by simply making a location request directly on their website.
Mechanical stump removal, also known as trimming, is the best way to ensure that the stump no longer causes damage to your property.
The arborist will come to your home with a chipper to remove the stump efficiently. The trunk and underground trunk will be professionally chipped. The hole is then filled with the remaining wood shavings and soil to avoid any risk of subsidence or injury.
You should never use chemicals such as sodium chlorate or bleach to remove a tree stump, as this could contaminate your land.
If you have a garden in your backyard, the soil will be contaminated, as the chemicals spread via the water table. What's more, there's no guarantee that the stump will never grow back.
Nor should you attempt to burn the stump. The risk of fire spreading through the root system is high, and there's no way of knowing how far it might spread. This method must be avoided at all costs.
If the stump is small, you could have it removed with a winch and chains, but this method could cause damage to your property.
How much does stump grinding cost?
Obviously, this depends on the size of the stump to be removed and access to it.
For a small, easily accessible stump, you could very well get away with a $100 bill.
However, the larger the stump, the longer it will take to shred, and the higher the bill. Location and accessibility play a major role in the total cost. If the stump is very large and really difficult to access, then it could cost you $1,000 to have it removed.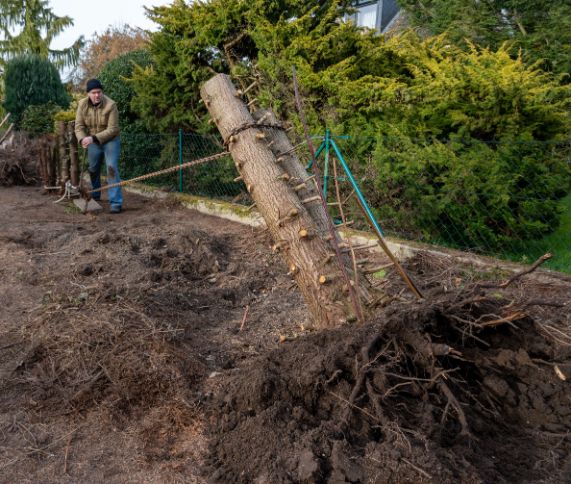 Request your free quotation
to get a personalized estimate for your tree removal. By filling out the form available on our platform, you'll receive 3 quotes from professionals in your area who can come to your home.
Although it can be expensive, it's absolutely essential to remove the stump, as it can cause problems you probably don't want to end up with.
If the stump rots in place, it will attract insects, which in turn may attract undesirable animals such as skunks or rodents that will feed on the newly established insects.
The arboriculturist, the specialist you need for your trees
An arborist does much more than just grub trees; he's an expert you should consult for all questions related to the health of your trees.
He can inspect your tree to determine if there's a way to treat it, or if you'll unfortunately have to have it cut down. In the first case, he'll show you how to care for it and give you valuable advice on how to preserve it. In the second case, he can make an appointment with you to arrange for the tree to be felled.
Arborists can also prune tree branches, which means removing dead branches from a tree to prevent them from rotting. Falling branches can be dangerous if the tree is close to a pedestrian thoroughfare. In a case like this, prevention is better than cure.
In short, when in doubt about how to care for your trees, consult an arborist.
Tree trimming at the best price - Compare quotes!
If you have a stump to be removed, but are a little concerned about the price of such a service, you should absolutely fill in the form available on this page. In no time at all, you'll receive 3 personalized quotes from experts in the field.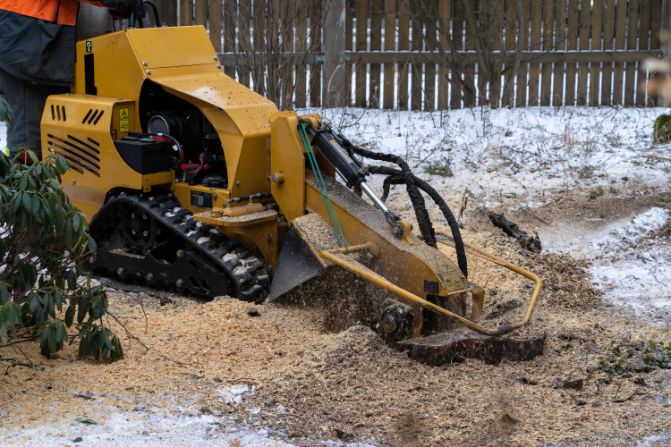 You can then choose the contractor who offers you the best price for stump removal.
Filling in the form is easy and free of charge, but above all, there's no obligation on your part. This will help you compare prices and know what you should expect for the service you want.